Vietnam must do more to sustainably develop maritime and island tourism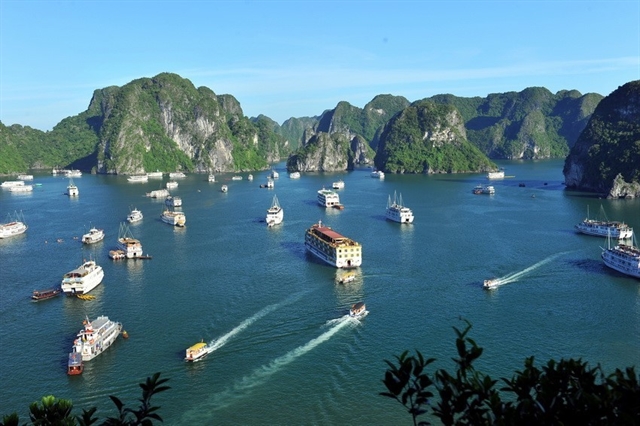 June 10, 2022
HA NỘI — Việt Nam has succeeded in developing its maritime and island tourism with attractive tourist products, leading to an increase in national and international attendance. However, the rapid growth of the industry requires planning to ensure sustainable development in the future.
Strong development has been an economic goal of coastal areas, helping to reduce poverty and improve the lives of people in many localities across the country.
In the coastal seas, Việt Nam has more than 2,500 large and small islands, many of which are extremely valuable for tourism.
The three island districts of Vân Đồn in the north of Quảng Ninh province, Côn Đảo in the south of Bà Riạ-Vũng Tàu province and Phú Quốc in the south of Kiên Giang are among the key islands for the tourism development of high quality.
Many other islands have become popular destinations for vacationers, including Cô Tô, Thanh Lan in northern Quảng Ninh province, Cát Bà, Cát Hải in northern Hải Phòng city, Lý Sơn in central Quảng Ngãi province, Phú Quý in southern Bình Thuận province and Cồn Cỏ in central Quảng Trị province.
Figures from the National Tourism Administration showed that the growth rate in the number of international tourists to the islands of Việt Nam during the period 2015-2019 reached 23%. In 2019, more than 1.5 million visitors came to the islands, mainly Cát Bà and Phú Quốc.
The northern sea and islands attract tourists from China, Japan, South Korea, Germany and the Netherlands, while those in the central region are favored by tourists from Europe, Laos and the Japan. Those in the south are favored by visitors from the UK, Italy and France.
Gaps
Cát Bà Island, in the northern Cát Hải district of Hải Phòng city, is a major northern tourist hotspot with beaches, a former fishing village and hundreds of serene islands covered in a dense vegetation for discovery and adventure tourism.
However, the island has not really made inroads in developing tourism. It is only crowded in the high summer season and receives few tourists in winter, from November to March.
According to tour operators and tour operators, Cát Bà still lacks accommodation facilities, quality hotels, entertainment spaces and professional tourist services.
A shortage of entertainment venues makes it difficult to keep visitors on the island while tourist activities are not diversified. There are few activities available at night.
In particular, the situation of weekend and rush hour traffic congestion as well as tourist overload always occurs.
Cát Bà National Park, an emerging tourist spot for a wide diversity of wildlife and a biosphere reserve in the city for trekking or hiking, only appeals to young people, they said.
To the south, the island of Phú Quốc in the southern province of Kiên Giang has been a phenomenon of Vietnamese tourism. Blessed with white sands, turquoise beaches and bright sunshine most of the year, with tropical forests covering two thirds of the island, Phú Quốc offers diverse travel experiences with high quality services.
Between 2014 and 2018, the resort island received less than one million visitors per year, but this number rose to five million in 2019. In the first quarter of this year, nearly 1.6 million visitors came on the island shortly after the reopening of VIệt Nam in March. 15.
However, Phú Quốc is threatened by environmental pollution caused by dumps.
Hundreds of tons of waste are dumped every day, but only 60% is properly collected. Uncollected and untreated sewage drifts along sewers, canals and rivers into the sea, causing environmental pollution.
Some beaches have been seriously polluted with garbage. Additionally, the marine ecosystem, including coral reefs and seagrass beds in the island's core marine protected area, has shown signs of decline in quantity and quality due to overexploitation.
It is expected that by 2030, Phú Quốc will become the main tourist destination and the amount of solid waste from tourism and activities of daily living will increase rapidly. Therefore, the island needs a solution for sustainable tourism development.
Nguyễn Anh Tuấn, director of the National Tourism Administration's Tourism Development Research Institute, said tourism in some islands such as Phú Quốc, Cát Bà and Côn Đảo has grown rapidly while d 'other facilities remained unchanged.
Tuấn said that the development of tourism in the coastal islands of Việt Nam still faces many difficulties. Some islands such as Phú Quốc, Cát Bà, Vân Đồn, Côn Đảo, Cù Lao Chàm and Lý Sơn have limited infrastructure, traffic, electricity, water supply and telecommunications.
In addition, human resources are insufficient and inadequate, making it impossible to meet development needs.
The rapid growth in the annual number of tourists and inappropriate tourism activities are causing negative impacts on the environment as well as the natural ecosystem of nature reserves, leading to unsustainable development of the islands.
Action plans
Việt Nam's tourism development strategy by 2030 has identified seven priority areas for tourism development, and five of them are in coastal areas with typical tourism products in each region, including the river delta. Red River and the Northeast Coast, the North Central, the South Central Coast, and the Southeast and the Mekong Delta.
There are seven world heritages and six biosphere reserves, as well as national parks and nature reserves and many cultural and historical sites located in these regions, attracting between 48 and 65% of tourists to Việt Nam.
According to experts and researchers, an effective tourism development plan is necessary for the harmonious and sustainable development of maritime and island tourism, which ensures national defense and security and promotes its key role in the development of the maritime economy.
The State should have preferential policies for the investment and development of quality beach and island resorts in a number of key areas, and the development of marine and island ecotourism products.
Nguyễn Thị Phương Linh, a representative of the Tourism Development Research Institute of the National Tourism Administration, said that each locality should review and perfect policies for the development of tourism in seas and islands and draw up a development plan in accordance with the general guidelines and tourism development policies of the locality and the country.
Most important, Linh said, is ensuring the sovereignty of the seas and islands and sustainable development with green growth plans and waste and sewage treatment.
On the other hand, localities must have response plans to deal with climate change and natural disasters to keep people safe and minimize damage.
Recently, many localities have given priority to the protection of the marine environment.
On the island of Phú Quốc, a group of volunteers and companies from the city of Ho Chi Minh City organized regular activities such as garbage collection and cleaning of the island's beaches.
The People's Committee of Côn Đảo district in the south of Bà Riạ-Vũng Tàu province, in collaboration with the World Wide Fund for Nature in Việt Nam, has launched a campaign to reduce plastic waste. The neighborhood has signed a pledge to become a plastic-reducing city, aiming to have zero plastic waste in nature by 2030.
The district authority believes that this will help build the image of Côn Đảo – an attractive tourist destination in the eyes of international friends.
Quảng Nam province, famous for the ancient city of Hội An, the Mỹ Sơn temple complex and the Cù Lao Chàm World Biosphere Reserve, has called on local people and tourists to come together to clean up tourist sites .
According to experts, the development of green tourism at sea and in the islands will be a global tourism trend, especially as climate change and environmental pollution increasingly affect people's lives. A harmonious and sustainable tourism development plan will promote a sense of respect for nature, the ecological environment and restore the protection of biodiversity among people and tourists.